Free movement during COVID-19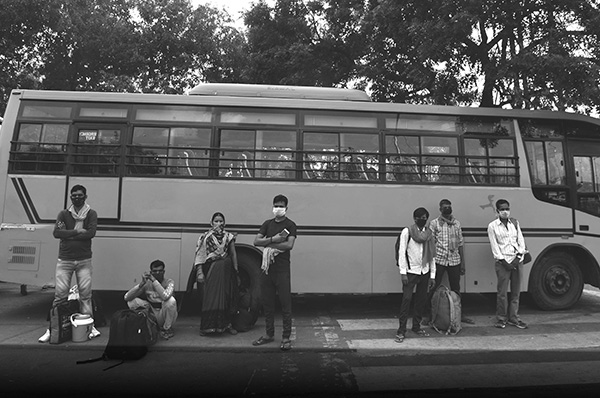 During the pandemic, governments have implemented internal travel restrictions to limit movement and slow the spread of the virus. While such restrictions may be motivated by legitimate concerns to protect public health, broad quarantines and lockdowns without specified timeframes are often imposed rashly and arbitrarily without ensuring protections against discrimination (see the Human Rights Watch report "Human Rights Dimensions of COVID-19 Response").  
Curfews, nationwide lockdowns, travel bans, and an unprecedented increase in mass surveillance within an authoritarian context have vast implications concerning democracy, the rule of law, human rights, and autonomy (see the article "COVID-19 emergency measures and the impending authoritarian pandemic"). Restrictions to freedom of movement and curfews impacts justice. VUKA! Alliance has found that the number one restriction during the pandemic has been to freedom of assembly. 
We are also seeing serious curtailments of the rights to association and assembly, including preventing peaceful demonstrations and the right of individuals to express opinions. For example in Israel-Palestine, the military are using the excuse of a high case numbers in certain areas to close down towns before protests in order to prevent them.  
Other examples we've observed: 
Internet shutdowns and travel restrictions in Myanmar have been used as a means of controlling society.  
A further separation between communities in Israel-Palestine due to issues of freedom of movement, such as between Palestinians inside Israel and in the west bank, and Gaza is even more inaccessible due to these restrictions 
In Latin America, we have seen how curfews and restrictions on assembly have been used throughout the pandemic. For example, in Colombia, hearings to grant an environmental license are now online which alienates many communities and blocks meaningful participation 
Kazakhstan's President Kassym-Jomart Tokayev restricted domestic and international travel, imposed lockdowns, and declared a state of emergency. Human Rights Watch criticized the government for restricting access to information and arbitrarily enforcing pandemic restrictions, as over 1,500 people have been sentenced to detention for violating quarantine, and journalists have faced harassment from authorities for reporting on the pandemic. In addition, a new law regulating public assemblies was passed during a lockdown, which meant there was no public debate or protests against it. 
In India, a three-week lockdown in March 2020 ended peaceful protests against the government's anti-Muslim citizenship policies, which make religion a basis for citizenship. The authorities began arresting protesters, students, and activists, accusing them of "conspiracy to defame the country in the international arena." Due to travel restrictions, those arrested had limited or no access to legal counsel or family members (see the Human Rights Watch report "India: End Bias in Prosecuting Delhi Violence"). 
In Kenya, when a lockdown curfew was announced, transport was limited and people were unable to get home. Police violently targeted people to enforce the curfew, leaving many injured. A young boy was shot dead by a stray bullet. 
Furthermore, it is understood that internal travel restrictions are ineffective and do more harm than good. Such restrictions can prevent people from accessing health care and deepen economic inequalities by penalizing people who can't work from home. Those in the informal economy and domestic workers in particular have suffered greatly without access to welfare systems, as well as those living in slums or camps where hygiene is lacking, such as the Roma people in Italy (see the Amnesty report "Europe: COVID-19 lockdowns expose racial bias and discrimination within police"). Restrictions such as these have been historically used to target migrants and minorities—enabling governments to act with impunity—and thus serve as a pretext for discrimination (see "Controlling COVID-19: The Folly of International Travel Restrictions"). 
Such measures also compromise people's freedom of assembly and association. Freedom of association encompasses both an individual's right to join or leave groups voluntarily; the right of the group to exists, operate, receive funds intended for the group; and to take collective action to pursue the interests of its members. It also relates to people's freedom to meet and associate with others, formally or informally. The state must actively take steps to protect people who choose to associate and express themselves. 
In a recent win for the media in Honduras, a decree instituting a state of emergency during the pandemic restricted the right to the freedom of expression without censorship, as guaranteed by the Honduran Constitution. Media associations urged the government to revoke this restriction, with 21 CSOs condemning the decree as a disproportionate measure. Following this pressure, the government re-established constitutional guarantees relating to the freedom of expression. 
Our recommendations
Individuals can use these resources to ensure their government is behaving legally during COVID-19. This U.N. map tracks travel restrictions across the world and updated government legislation. This Rights and Security International document assesses abuses of emergency powers restricting freedom of movement during COVID-19 and the impact on civil society organizations and human rights actors.
Individuals can use social media to publicize cases of how states are infringing on the right to associate and assemble.
Governments must ensure restrictions such as mandatory quarantine or isolation are carried out in accordance with the law, with a necessary and legitimate objective that is proportionate and based on scientific data. These restrictions must also be subject to review and governments must be held accountable for enforcing this arbitrarily (see the Human Rights Watch report "Human Rights Dimensions of COVID-19 Response"). The International Center for Non-for-Profit Law tracks government measures restricting movement.
COVID Report: Year One
One year into the COVID-19 pandemic, restrictions on civil space are increasing. Recognizing the need to protect public health, our report looks at nine kinds of restrictions that could limit civil space for the long term and how civil society can respond.
Get in Touch
Under the Mask is an evolving project dedicated to the alarming increase in restrictions on civic space around the world, worsening during the COVID-19 pandemic, and how individuals and organizations are responding to protect that space. We welcome your feedback about this website, and we invite you to participate in this collective effort.