Quakers in Britain | 27 October 2021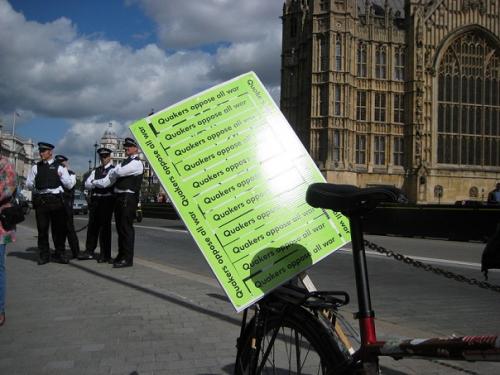 Quakers in Britain have co-convened a joint faiths and beliefs letter calling on the government to rethink the Police, Crime, Sentencing and Courts Bill.
"The new restrictions on peaceful processions and assemblies present a grave threat to civil liberties in this country, and would allow the police to potentially criminalise a wide range of scenarios, either for being too 'noisy' or for causing 'serious unease'.
Both criteria are vague, and risk capturing a range of activities. In practice, there are also likely to be a number of severe consequences for faith and belief communities across the country. The police would be empowered to disrupt gatherings and events that cause noise. Expressing one's faith or belief, or putting it into practice, often requires vocal expression. This ranges from street preaching and protesting about the harm being done to creation, to chanting and singing as important religious and creative practices. It can cause 'unease' to people in the vicinity who might disagree. The Bill would therefore have a chilling effect on the practices of millions of those putting their faith or belief into practice across the country. The Government has not explained how the rights of these communities will be safeguarded."
Read the full article and see the link to the letter here.
Read AFSC's related blog written in April 2021 'Protecting the right to protest in the UK: Proposed restrictions amongst a stark decline in democracy across the world'.
Regions currently impacted: region