International Center for Journalists
Read ICFJ's three-year global study on gender-based online violence against women journalists representing collaborative research covering 15 countries.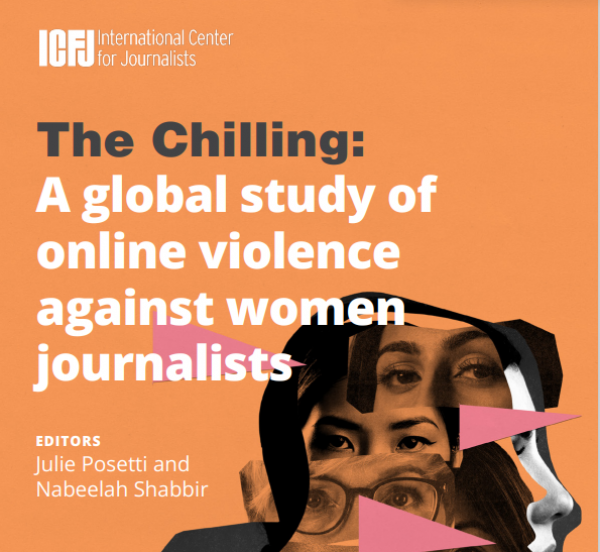 "Online violence against women journalists is one of the most serious contemporary threats to press freedom internationally. It aids and abets impunity for crimes against journalists, including physical assault and murder. It is designed to silence, humiliate, and discredit. It inflicts very real psychological 
injury, chills public interest journalism, kills women's careers and deprives society of important voices and perspectives."
The research draws on:
The inputs of nearly 1,100 survey participants and interviewees;
2 big data case studies examining 2.5 million social media posts directed at Nobel Laureate Maria Ressa (The Philippines) and multi award-winning investigative journalist Carole Cadwalladr (UK);
15 detailed individual country case studies
"...freedom of expression is not an absolute right. On the one hand, this means that freedom of speech defences cannot be used to justify abuses of the rights of others, and neither can they be used to fend off justifiable restrictions by a State acting within the international standards for legitimate limitations on 
expression. 

Nor can 'freedom of speech' be used to excuse failing to act against online violence by those private actors whose facilities and platforms are exploited by attackers. The notion that a person's right to 'free speech' therefore entitles them to undercut another person's right to freedom of expression (including press freedom) is contrary to international standards on freedom of expression.

On the other hand, as former UN Special Rapporteur for freedom of expression David Kaye warned in a 2017 report, any attempts by States to stop and prevent gendered online violence must also avoid censorship: "Censorship and undue restrictions on content could end up undermining the rights of the very women for whom governments and corporate actors may seek to provide redress" (OHCHR, 2017a). 

In other words: at the UN level, countering online violence against women journalists while respecting freedom of expression is a 'balancing act' (Bontcheva and Posetti, 2020). But it would be a false binary argument to suggest that it is not possible to both defend freedom of expression while also working to prevent and stop online violence against women journalists - a form of attack which is ultimately designed to chill their reporting and undercut press freedom."