CIVICUS
"The analysis presented here draws from our ongoing analysis initiative launched in January 2022, CIVICUS LENS, and is directly informed by the voices of civil society affected by and responding to the major issues and challenges of the day. It offers a civil society perspective of the world as it stands in early 2023: one plagued by conflict and crises, including of democratic values and institutions, but in which civil society continues to strive to make a crucial difference in people's lives."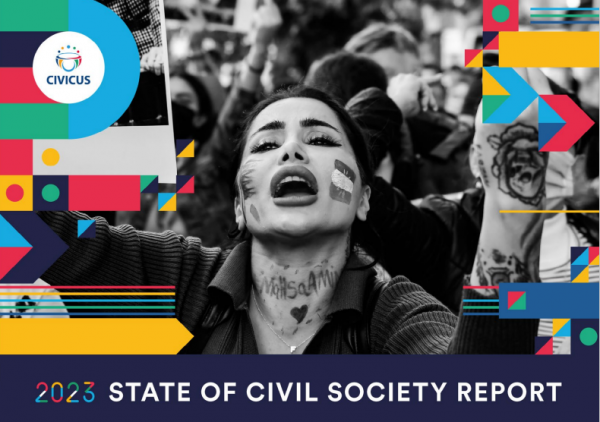 KEY FINDINGS:
Civil society is playing a key role in responding to conflicts and humanitarian crises – and facing retaliation
Civil society is playing a vital role in conflict and crisis settings – including in conflicts in Ethiopia, Syria and Ukraine – providing essential services, helping and advocating for victims, monitoring human rights and collecting evidence of violations to hold those responsible to account. But for doing this, civil society is coming under attack.
Catastrophic global governance failures highlight the urgency of reform
Too often in the face of the conflicts and crises that have marked the world over the past year, platitudes are all international institutions have had to offer. Multilateral institutions have been left exposed by Russia's invasion of Ukraine. It's time to take civil society's proposals to make the United Nations more democratic seriously – starting with the appointment of a civil society champion.
People are mobilising in great numbers in response to economic shock – and exposing deeper problems in the process.
As it drove a surge in fuel and food prices, Russia's war on Ukraine became a key driver of a global cost of living crisis. This triggered a mass wave of protests in at least 133 countries – from Argentina to Indonesia and from Ghana to Kazakhstan – demanding economic justice. Civil society is putting forward progressive economic ideas, connecting with other struggles for rights, including for climate, gender, racial and social justice.
The right to protest is under attack – even in longstanding democracies
Many states, unwilling or unable to concede the deeper demands of protests have responded with violence, including in Iran, Sierra Leone and Sri Lanka. The right to protest is under attack all over the world, including when people are mobilising to seek economic justice, democracy, human rights and environmental action. Civil society groups are striving to defend protest rights.
Democracy is being eroded in multiple ways – including from within by elected leaders
Economic strife and insecurity are providing fertile ground for the emergence of authoritarian leaders. In more democratic contexts, there are distinct trends of a further embrace of far-right extremism, and of the rejection of incumbency. In volatile conditions, civil society is working to resist regression and keep making the case for inclusive, pluralist and participatory democracy.
Disinformation is skewing public discourse, undermining democracy and fuelling hate
Disinformation is being mobilised, particularly in conflicts and during elections, to sow polarisation, normalise extremism and attack rights. Powerful authoritarian states and far-right groups are key sources, and social media companies are doing nothing to challenge a problem that's good for their business model. Civil society needs to forge a joined-up, multifaceted global effort to counter disinformation.
Movements for women's and LGBTQI+ rights are making gains against the odds
In the face of difficult odds, civil society continues to drive progress on women's and LGBTQI+ rights. But breakthroughs have made civil society the target of a ferocious backlash. Civil society is working to resist attempts to reverse gains and build public support to ensure that legal changes are backed by shifts in attitudes.
Civil society is the major force behind the push for climate action
Civil society continues to be the force sounding the alarm on the triple threat of climate change, pollution and biodiversity loss. Civil society is urging action using every tactic available, from street protest and direct action to litigation and advocacy in national and global arenas. But the power of the fossil fuel lobby remains undimmed and restrictions on climate protests are burgeoning. Civil society is striving to find new ways to communicate the urgent need for action.
Civil society is reinventing itself to adapt to a changing world
In the context of pressures on civic space and huge global challenges, civil society is growing, diversifying and widening its repertoire of tactics. Drawing on its special strengths of diversity, adaptability and creativity, civil society continues to evolve. Much of civil society's radical energy is coming from small, informal groups, often formed and led by women, young people and Indigenous people. There is a need to support and nurture these.
Read the full report here: also available to download in other languages.