Under the Mask virtual event

We are pleased to invite you to American Friends' Service Committee (AFSC)'s virtual event:
'Strategies to Protect Civic Space During Pandemics' on Thursday 17th March 2022
Français, Español, العربية, မြန်မာ, Bahasa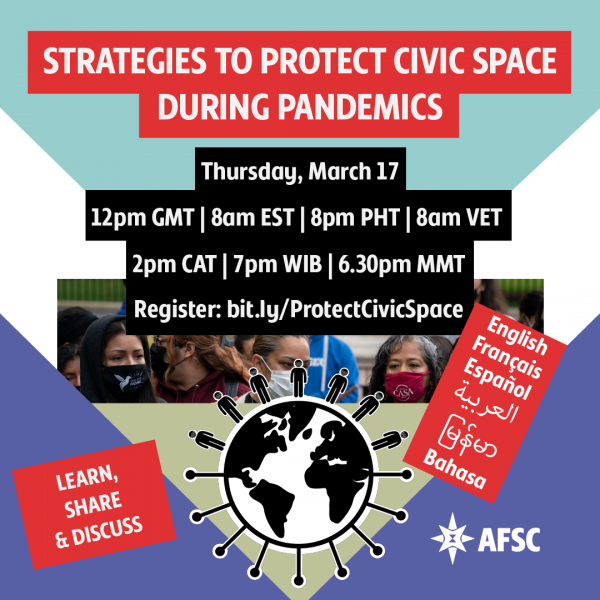 This past year through our Under the Mask program, AFSC has been monitoring, identifying, and resisting extreme state measures that are infringing on civil liberties and restricting civic space during COVID-19. Civil society groups and networks around the world have been implementing projects to seek strategies to protect civic space during the pandemic. AFSC has convened representatives from five organizations to present case studies of each project and share lessons learned for others in similarly restricted contexts. This will be a fantastic opportunity to hear first-hand experiences and to engage in discussions with those carrying out such vital and fascinating work. 
The five organizations – based in Zimbabwe, Myanmar, Philippines, Indonesia and Venezuela – will share information about their respective organizations' efforts to allow the voices of civil society to be heard.
Please see the list of topics on the event sign up form to register your interest(s) in the smaller group discussion and we will try our best to facilitate your language preference on the day.  We will have French, Spanish, Arabic, Bahasa and Burmese interpretation available for the presentations.
When: Thursday 17th March 2022
12pm GMT/ 8am EST/ 8pm PHT/ 8am VET/ 2pm CAT/ 7pm WIB/  6:30pm MMT / 3pm JRD
The main event is 1 hour long, followed by an additional 30 minute smaller group discussion.
Following the event, we will release soft copies of all case studies, translated into French, Spanish, Arabic, Bahasa, and Burmese. We will also be producing a soft-copy report of lessons learned, messages and requests from the event and discussions for key people engaged at the global level, translated into AFSC languages. 
Our team can be contacted at UndertheMask@afsc.org if you have any questions or queries. We look forward to welcoming you.
Français, Español, العربية, မြန်မာ, Bahasa