by Libby Chase
COVID-19 has engulfed India, a country of almost 1.4 billion people, with an estimated one fifth living below the poverty line. Stories of people walking for miles seeking oxygen for loved ones, health systems crumbling under mounting pressure, and crematoriums completely overwhelmed are spreading across the world. 
But what has led to this? I spoke with Akhil, a senior development activist in India about factors contributing to the scale of the crisis.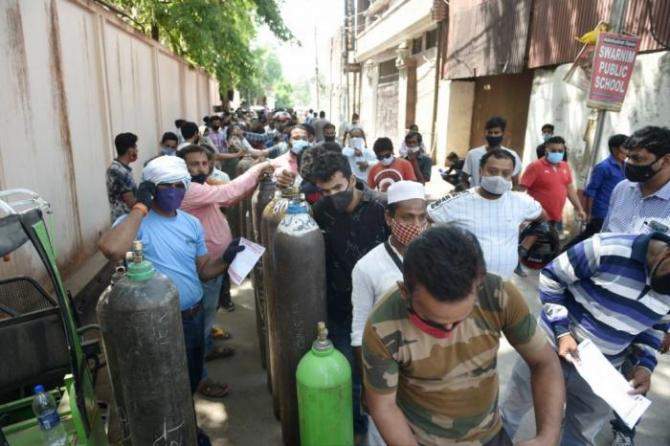 1. Historically weak infrastructure 
An extremely weak infrastructure due to large population and historical lack of investment left the country ill-equipped to deal with the pandemic. The lack of investments in public education about the virus and the risks it poses has contributed to a lack in uptake of vaccines, particularly in rural areas. At the current vaccinating rate, it will take three or more years for the country to be fully vaccinated; as it stands, 3% of the population is fully vaccinated. This historical lack of preparation in regards to investment in healthcare and education lays shaky foundations to withstand a crisis such as this pandemic.  
2. Warnings from scientific advisors ignored 
Despite warnings by a forum of scientific advisors in early March 2021 of a new and more contagious variant, Prime Minister Narendra Modi, leader of the Bharatiya Janata Party (BJP) continued to hold political rallies and allow religious festivals and large gatherings to take place. By April infection rates had quadrupled. Critics have remarked that the government has enforced lockdowns convenient to their agenda, as the first three-week lockdown in March 2020 ended peaceful protests against the government's anti-Muslim citizenship policies; the Citizenship Amendment Act makes religion a basis for citizenship.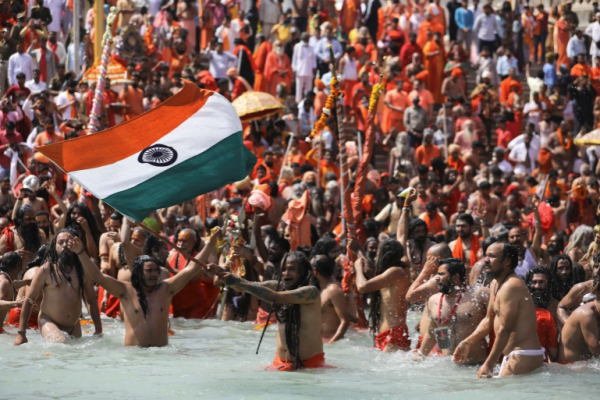 Critics have accused the government of doing too little to prepare for the surge in cases, as an oxygen shortage has twice been flagged to the government; once in April 2020 and again in November 2020. This oversight has led to current oxygen supplies just reaching 46% of the national demand, creating a new currency as the hidden market for oxygen cylinders is growing rapidly. This has contributed to state government feuds as they battle for oxygen from private contractors.  
Moreover, critics say that the government is more concerned over its image than substance, taking responsibility for "victories" such as low case numbers after the first wave and blaming others for failures such as the lack of preparation and crisis that has ensued. 
3. Promotion of unproven remedies 
Increased funding and attention towards the Ministry of AYUSH (Ayurveda, Yoga, Naturopathy, Unani, Siddha, Sowa-Rigpa and Homeopathy) has frustrated many as it continues to promote systems without conclusive proof and quality research. Some religious believers in Gujarat have been covering their bodies in cow dung and urine in the hopes of building immunity, despite a lack of scientific evidence. 
4. Monitoring and control of information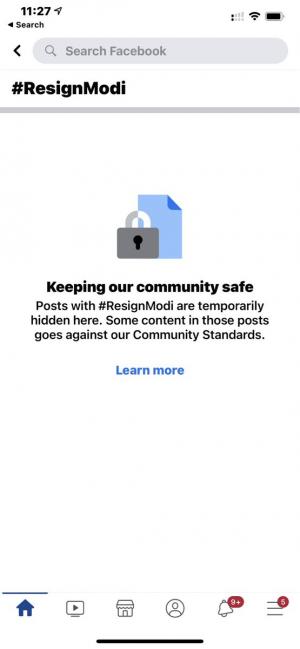 As the BJP was the first to win the election based on 'social media campaigns', it is unsurprising that Prime Minister Modi is utilizing social media platforms such as Twitter to take down content he finds objectionable. The hashtags #ResignModi and #ModiMustResign have disappeared periodically across Twitter and Facebook. Twitter has censored tweets criticizing India's handling of the pandemic at the request of the government, as well as blocking accounts linked to the farmers' protests. This is due to supposed violations of the law, with restricted content being considered as defamatory or inciting violence. The Uttar Pradesh chief minister threatened to use the National Security Act to seize the property of anyone complaining about oxygen shortages, including health workers. India is also reported to have had more internet shutdowns than any other country in the world in 2020. 
4. Spread of misinformation 
Since the start of the pandemic, there has been no public health address by the government to inform the population about the current state of the pandemic. This has caused an infodemic outbreak as Whatsapp groups, fake news videos and alternative sources of information are circulating misinformation. These have caused confusion and encouraged risk-taking behaviours.  
5. Misreporting official data 
Official statistics have reported 307,231 deaths as of May 24 2021, however a more likely scenario suggests there have been 1.6 million deaths as anecdotal evidence from crematoriums and cemeteries suggests the daily number could be much higher. Researchers and journalists have begun collecting independent data, signifying the actual number could be from 5-20 times higher than official numbers.  
By monitoring and controlling information that is reaching the population and suppressing opposing narratives, the government is enforcing a positive image of itself to please voters and ultimately remain in power.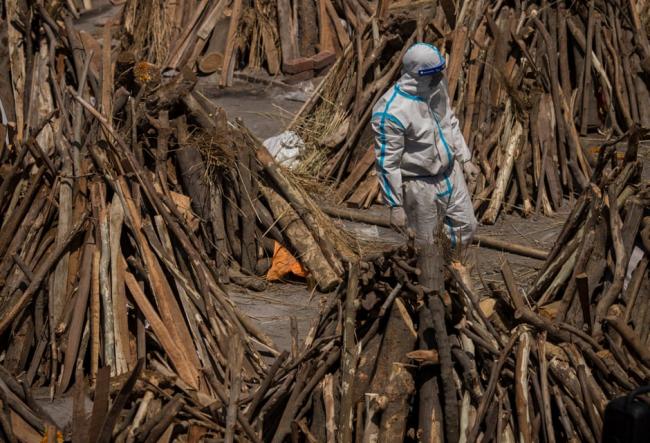 6. No transparency with funds 
On the 27th March 2020 Modi set up the Prime Minister's Citizen Assistance and Relief in Emergency Situations Fund (The PM Cares Fund in short) and appealed to all Indians to donate. It is estimated there are over 100bn rupees (about $1.4bn USD) in the fund. Since it was set up there has been no information regarding how the fund is managed, how much money has been collected, and how it is being put to use. Opposition leaders are concerned about the lack of transparency as the situation continues to intensify.  
7. Lack of engagement by the international community  
Although countries such as Singapore, Australia, France, the US and the UK have shipped ventilators, oxygen concentrators, masks and drugs to India, the international community can and should do more to help deal with shortages and vaccine access. It should further demand transparency for government support funds, and accountability in a distinct lack of preparation that gave way to this crisis, and the monitoring and suppression of opposing voices and critics that is taking place. Whilst cases continue to rise in India and around the rest of the world, new strains will emerge and COVID-19 will continue to threaten and impact our lives. 
Until civil society in India has recovered somewhat and can harbour the necessary time and resources to come together, fact checking tools can be useful in fighting misinformation and disinformation.
These tools are listed on our Resources page:
A live and interactive website that tracks the latest news and trending topics surrounding the Covid-19 pandemic. 
RSF's tracker provides live updates of Covid-19 impacts of press freedom and documents state censorship and misinformation. 
The Oxford COVID-19 Government Response Tracker (OxCGRT) systematically collects information on several different common policy responses that governments have taken to respond to the pandemic on 20 indicators such as school closures and travel restrictions. It now has data from more than 180 countries. 
The Inter-Parliamentary Union has listed measures being taken around the world with the objective to share parliamentary practice and facilitate inter-parliamentary communication. 
________________________________________________________ 
Do you want to comment on this blog or have something to share? We'd love to chat. Please fill out our contact form here or email us at UnderTheMask@afsc.org. 
Regions currently impacted: region