by Lucy Roberts
Acknowledging the shared challenges and experiences faced by civil society activists around the globe during the COVID-19 pandemic, AFSC launched Under the Mask (UTM) to help people worldwide to protect civil rights and civil liberties. We want to make sure these resources reach every person and organisation that needs them. And we could use your help with that!
One of our goals is for the UTM website to be visited by people in at least 60 countries by the end of December. Currently we have visitors from 106 countries, 66 of which are in the Global South. 
A universally bonding aspect on this project is the fact that civil liberties are being eroded under COVID-19 regulations in both the Global South and the Global North at similar rates. However, the people who access our materials are predominantly from the Global North, and predominantly people and organisations in the position of 'serving' the Global South.  
UTM faces some barriers to reaching people in the Global South because the primary language of the site is English, and the majority of AFSC contacts are from the U.S. This is partly because AFSC is U.S.-based and has undertaken U.S. focussed work on justice and peace for over 100 years, It is also because our contacts and partners in the 16 Global South countries where we have a presence are not merged into central databases because of different language needs and the relationships are maintained at the national and regional levels. We have taken steps to counter these challenges and promote global engagement. These include hosting inclusive online focus group meetings and conferences with interpretation, translating web materials,  and offering videos and other media on the site in addition to written materials. AFSC has also awarded grants to Global South organisations protecting civic space during the pandemic. We are always thinking of new ways to engage and connect. 
Can you help us? We are looking for Global South consultants and specifically skilled facilitators to collaborate with us on virtual convenings. Please contact us if you want to be added to our database. This way we can connect with you when we have opportunities to work with us.. 
We're also considering launching a monthly UTM feature highlighting a Global South rights thinker or activist on our website? If you have suggestions of people to highlight, please get in touch. 
Understanding deeper divisions
We're examining  the impact of longstanding inequities on Global South responses to COVID-19 and civil restrictions. We can learn a lot from the fields of disability rights and climate change, where phenomena identified as 'scholarly colonialism' and 'colonial science' have restricted voices of the Global South in the international sphere. 
Two examples from these fields;
It is possible that the natural structure of African society was more inclusive of people with disabilities and less conscious of the impairment itself before the international disability rights framework impacted thinking. This process is termed scholarly colonialism, and this is how it works...
In Botswana inclusive 'ubuntu' communities began to exclude people with disabilities once they became labelled as such by the international definition. Prior to this, there was no recognition of people with disabilities constituting a separate group. In Uganda, people committing atrocities during the civil war were considered damaged by the conflict and 'conscience-less'. People with disabilities without a role or job within the community were ostracised and seen in the same way. Sometimes communal efforts were made to reintegrate the 'conscience-less' people (without distinguishing between 'people with disabilities' and 'people who performed atrocities'), and this was a successful and inclusive community approach. People with disabilities who were active in the community were not part of this 'conscience-less' group, and there was no term for them. These foundational concepts of identity originating from ones role is society have been superseded by the international definitions, and they are now lost. 
And what about colonial science? The green movement originates in the Global North, while the impacts of global warming and environmental degradation are felt most acutely in the Global South. As COP26 dominates the news, colonial science is being recognised. The 'Reuters Hotlist' ranked the 1,000 most influential climate scientists in the world. Carbon Brief research identified a strong bias towards Global North scientists. 'No papers in this analysis are led by a researcher from either Africa or South America. Furthermore, only seven papers are led by Asian authors – five of whom are from China'. Ayesha Tandon, the study's researcher, says 'Biases in authorship make it likely that the existing bank of knowledge around climate change and its impacts is skewed towards the interests of male authors from the global north. This can create blind spots around the needs of some of the most vulnerable people to climate change, particularly women and communities in the global south'.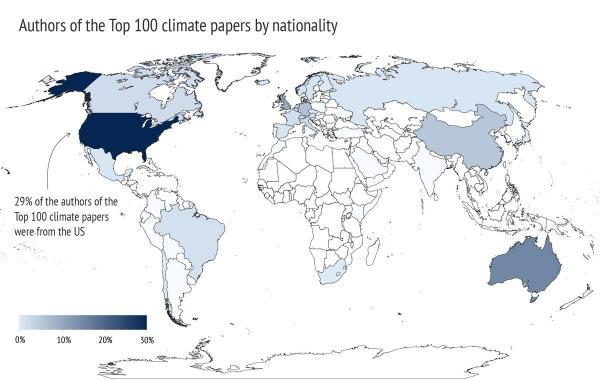 Carbon Brief Map Ayesha Tandon
Are there impacts of scholarly colonialism and colonial science on the protection of civil liberties under COVID-19? And if so, what are they and how might we mitigate them? 
International bodies are charting and monitoring COVID-19 restrictions around the world with the intention of holding governments to account. Does this 'expertise' overwhelm Global South concepts, approaches, debates, and agendas? Are Global South experts on liberties and pandemics underfunded and unrecognised? There is a wealth of experience addressing systemic rights abuses and contagious outbreaks in the Global South – is this being overlooked? 
Colonial science, which directs funding, may have prevented the cross-fertilisation of ideas between countries and continents in the Global South. People are aware of the debates in their own country and the predominant global dialogue, but local and national scientific research has not had the opportunity to evolve. Scholarly colonialism may have undermined the foundational concepts necessary for local thinking, approaches, and strategies to become nationally and then regionally considered and adopted. 
Both these phenomena have the potential to undermine confidence in local solutions, approaches, conceptual frameworks, and discourses. This makes us, at UTM, more determined to ensure we find new ways to seek out, raise up, honour, and learn from Global South countries as people continue the struggle to protect their civil liberties during the pandemic. 
Would you be interested in joining a focus group online to discuss these ideas further? Any thoughts or comments on this blog are most welcome.
Sign up to our newsletter for monthly updates on our project, blogs, articles, and new resources committed to tracking restrictions and reclaiming civic space throughout the pandemic and beyond.
Regions currently impacted: region